Biking with Beanzie
---
We are considering whether we need to reschedule Beanzie for this year, Please monitor our website or Facebook page for updates. Thank you for your support! Active.com is temporarily not taking new registrations.
Look for 2020 Active.com Online Registration in the spring. Walkup registration encouraged the day of.
The wicking shirts and the gravel option are NOT on ACTIVE or our website yet. This information will be shared as soon as the committee is ready. I jumped the announcement a bit before they were ready. Thank you for your support!!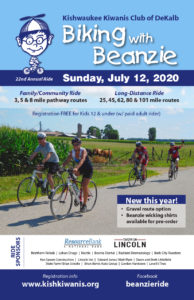 **Profits from this ride go to support the Kishwaukee Bike Pathway projects and other projects within DeKalb County.
Beanzie Central Phone # to be posted the month prior to ride. "Calls & emails will be answered as promptly as we can prior to Beanzie. On actual Beanzie Sunday, please do not leave voice messages or emails. Call the Beanzie Central # until we answer. There may be riders calling at the same time. You may need to call back in a few minutes."
Email: BikingwithBeanzie@yahoo.com
Facebook: https://www.facebook.com/beanzieride/
Maps: Color Printer needed to print. Beanzie 2019 Map lower resolution ; higher resolution map Beanzie 2019 Map
2020 Maps to be posted two days prior to event.
Cue, Turn by Turn Sheets- Road Ride Routes. Beanzie Cue 2019-07-12
2020 Cue sheets to be posted two days prior to event.
2019- Rest Stops (2020 Rest stops not confirmed)
Whiskey Acres Distilled Co. 11504 Keslinger Rd, DeKalb, IL 60115 http://www.whiskeyacres.com/tours
Jonamac Orchard 19412 Shabbona Road Malta, IL 60150 https://jonamacorchard.com/directions/ Milan Township Hall (Perry and Shabbona Road) 14989 Shabbona Rd. Malta, IL 60150
2018 Video of Biking with Beanzie- Bob Myer's Drone Photography, Hawk Aerial Imagery, Insured, FAA Licensed, Video: https://drive.google.com/file/d/1qDR1yS9vUm9voEAP2FfXOu4hBYhq6jx1/view?usp=sharing
General Ride Information
Biking with Beanzie (BWB) is a recreational ride presented by Kishwaukee Kiwanis Club of DeKalb and sponsored by Northwestern Medicine and other donors. The ride route consists primarily of flat rural roads with some rolling terrain. Riders can choose from multiple route options, ranging from approximately 20 to 100 miles, enabling each rider to choose the route most appropriate for him or her. Routes go through scenic DeKalb, Ogle, and Lee County windmill farms. All roads are well-paved, lightly traveled and posted with signs containing ride information and bits of Beanzie humor.
BWB also offers 3, 5, and 8-mile family-friendly, community bicycle pathway routes.
Ride starts and ends at DeKalb High School (DHS), 501 W. Dresser Road, DeKalb, IL 60115
Long Distance Routes (approximately 20 to 100 miles)
2019 Route Maps & Cue/Turn-by-Turn Sheets will be available here, two days prior to event.
**If there is questionable weather, please check with Registration/Check-in by 6:15 a.m. before you leave the high school for any updates. You can also call the Beanzie Central phone number listed on the Cue Sheets. Safety first. With the number of riders participating in our event, it is difficult to communicate with everyone (although we try).
Family/Community Routes (3, 5, 8 mile routes & can be repeated)
Beanzie Bike Pathway Community Ride Map
All ride routes are provided with rest stops and water stops, regardless of the length of the route chosen. Bagels, fruit, beverages and a variety of other food options will be provided at rest stops. Our ride is easy to navigate with well-marked routes, route maps, and cue sheets. Friendly SAG wagon drivers are knowledgeable about the route and bicycling. Ice cold watermelon and other snacks will be available following the ride. As a rider of the Biking with Beanzie event, you will be investing in our community. BWB is a "family" event that promotes fitness and family fun. Profits from this ride go to support the Kishwaukee Bike Pathway projects and other projects within DeKalb County. BWB is partnering with Northwestern Medicine and Live Healthy DeKalb County initiative to help promote a healthier lifestyle within DeKalb County.
---
Registration Times & Start Times
Walkup/"Day of" Registrations accepted. Cash or check.
6:30 to 9:30 a.m. – Long Distance Routes (approximately 20 to 100 miles)
Start between 6:15 & 7:30 a.m. (80 to 100 mile routes)
Start between 6:15 & 9:30 a.m. (20 to 65 mile routes)
9:45 to 11:45 a.m. – Family/Community Routes (3, 5, 8 routes & can be repeated)
All riders must be finished with the ride and the DeKalb High School facilities by 3:30 p.m.
---
Registration Cost
T-shirts are NOT part of registration.
T-shirts may be purchased for $10.00 through July 3, or $12.00 after July 3, as available.
Adult-Long-Distance Routes
$27.00 with pre-registration through July 3.
$35.00 after July 3 and day of event
Adult-Community Routes
$10.00 with pre-registration or day of event.
Youth Riders
Registered Youth age 12 and under ride FREE on all routes with paid adult rider.
Please email child's name & age to BikingwithBeanzie@yahoo.com
Please do not register Youth under 12 on Active.com .
---
Registering for the Ride
-Register by U.S. Postal mail including a Beanzie 2019 trifold to PO Box 1007 DeKalb, IL 60115. 2020 trifold available late winter.
-www.Active.com (Active.com Registration Closes at Midnight of July 3, 2020)
https://endurancecui.active.com/event-reg/select-race?e=60974253
$3.25 online registration fee
More Information
BikingwithBeanzie@yahoo.com
PO Box 1007, DeKalb, IL 60115
---
Additional Ride Details
Safety and Support
All riders are strongly encouraged to wear helmets and follow the rules of the road. SAG wagon and rest stops will be provided until 3:30.
Post Ride Activities
Post ride activities include access to the DHS showers, towels (for a nominal fee), and ice cold watermelon and other tasty treats.
Other tasty treats will be available from Barb City Bagels, Culver's, and Papa John's, as supplies last.